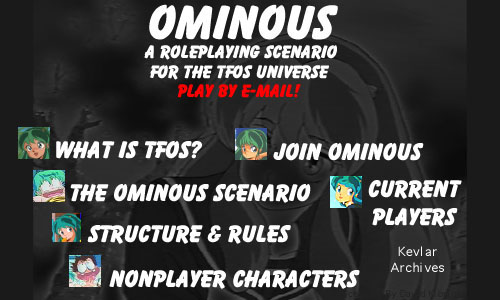 ---
The Ominous Archive is up! Click Here for Day 1
Current Scenario Status:
Current Players: 10
Ominous is now officially over - thanks to everyone who participated.
Important updates:
The form to suggest website character/house/item updates has disappeared into the ether - all future requests can be sent to tfos_referee@yahoo.com.
The submission form mailer is currently being ornery, so it may not work. Even if it gives you an error, the form may still have gotten through, but if you're not sure, send the character info in an email to the address above. I'll also have some template files you can download, fill out, and send in in the near future.
Ominous archives are still out of date. Updates when I have time.
Please use the links above to find out more about Ominous
---
About TFOS
The PBEM Scenario
Join the PBEM
PBEM Players
Other PBEM Characters
Kevlar PBEM Archives
Day 1
Day 2
Day 3
Day 4
Day 5
Day 6
---
You are the
th visitor
to Ominous since the move!
---